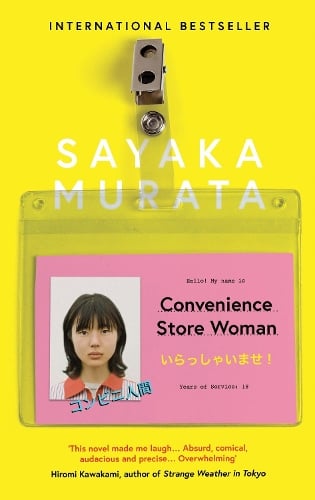 A clever novella that Challenges age and gender stereotypes
Along with ubiquitous vending machines, brightly lit convenience stores are a staple of Japanese urban landscapes. From snacks and drinks to umbrellas and crisp white shirts the likes of Hudson, Family Mart and 7 Eleven are always on hand to get you through the working day or to get you out of a fix.
Despite their functional esteem, working in a convenience store is not regarded as a viable or aspirational career. Consequently, employees are a transient bunch with a tenure of months rather than years. Convenience Store Woman is about an employee, Keiko, who bucks the trend by devoting years in service to her community. But is Keiko's loyal servitude masking something about her own life?
The key theme in the novel is around the value placed on service roles in Japan versus white collar career positions. Even her own family urge her to get a 'proper' job suggesting that she has needed therapy since a childhood incident that that left a black mark by her name.


Keiko wonders what life would be life if she does conform to the lifestyle expected of her. In an attempt to take control of her own life Keiko begins a relationship with Shiraha, a fellow convenience store worker, whom she agrees to live with but ultimately she struggles to resist the role of servitude that she is so proud to hold. At one point, having given up work, she finds herself rearranging products on the shelves to improve their appeal.

In Convenience Store Woman Sayaka Murata successfully flips the status on the ever-present sound of "Irasshaimase" which is what, in fact, keeps mega-cities like Tokyo working. This a clever novella that challenges gender and age stereotypes whilst shining a light on a society coming to terms with its own problems with over-work.
Convenience
Store Woman
by Sayaka Murata and translated by Ginny Tapley Takemori published
by Portobello Books, 176 pages